Are you exploring the best areas to live in Nashville? While there are tons of great neighborhoods in Nashville worthy of attention, the suburbs offer some of the best schools in the area, outdoor recreation, and plenty of space – usually with a lower cost of living.
A suburb is an outlying area of a city outside the city limits. Suburbs can be towns, cities, or unincorporated areas. They may be mostly residential – but they can also offer an urban lifestyle right outside the urban core. Here are the seven best suburbs of Nashville that should be on your list, from walkable communities for young professionals and the best suburbs of Nashville for families to great places to retire.
Hendersonville – Best Schools in Nashville Area & Waterfront Homes
June Carter and Johnny Cash lived in Hendersonville for more than 30 years, and Kelly Clarkson calls the city home today. Hendersonville is one of the best suburbs of Nashville when you want the space and larger homes of the 'burbs but aren't looking for the traditional suburban lifestyle.
The City by the Lake is a bit far from Nashville, but it's the place to be if you want to live on the lakefront or use it recreationally. Old Hickory Lake offers boating, skiing, fishing, and swimming with over 26 miles of shoreline. Hendersonville also boasts numerous parks and the Streets of Indian Lake, a fun entertainment complex with shopping and dining.
View this post on Instagram
The highlight of Henderson is its excellent school system which makes it one of the best suburbs of Nashville, TN for families – especially considering its affordability! Merrol Hyde Magnet School is the #1 high school in Tennessee and it's ranked #7 nationwide. It's worth the effort to get your children into the school through the lottery, wait list, or based on entrance exams.
Brentwood – Top 5 Safest Cities Near Nashville, TN & One of the Best Nashville Suburbs for Families
Home to Dolly Parton, Brentwood isn't just one of the safest Nashville suburbs: it's the 4th safest city in Tennessee! The city recently ranked 4th with just 71 violent crimes per 100,000 people, 89% below the national average!
The family-friendly suburb isn't very large, but it offers all the amenities you could want including an equestrian center, sports complex, trampoline park, and great parks district. The 164-acre Crockett Park hosts frequent community events and it's home to the Cool Springs House and a large playground.
View this post on Instagram
The city also offers residents a great jobs market, especially for healthcare and education, as the headquarters for several large corporations like Tractor Supply Company, LifePoint Health, and Kirkland's.
Families appreciate not only the safety and amenities but also the quality of the education. Brentwood is one of the best suburbs of Nashville with good schools. It's home to the 5th and 6th best high schools in Tennessee! Brentwood High School and Ravenwood High School in the Williamson County Schools district are ranked among the 250 best high schools in the country with dual enrollment, AP-level courses, dual credit courses, and more.
Franklin – One of the Best Nashville Suburbs for Retirees
Tennessee is a great state for retirees thanks to a low cost of living, a great climate, and tax-friendly laws for seniors, including no tax on Social Security income. Looking for a place to retire near the Music City? You'll want to set your eyes on Franklin, frequently ranked as one of the best places to retire in the U.S.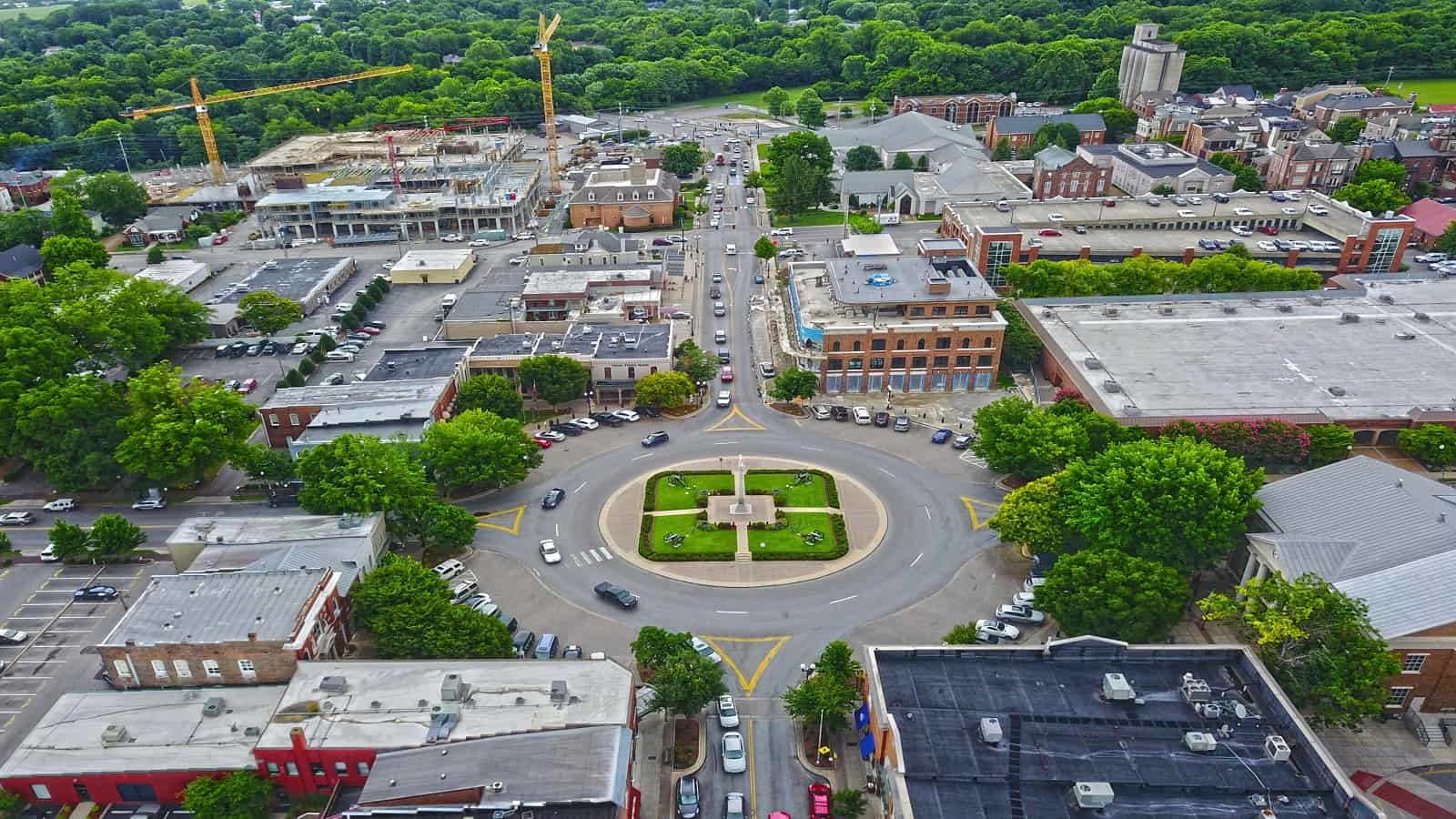 Money magazine ranked Franklin as the #3 best place to live in America for 2022 thanks to its festivals, charming downtown, easy access to entertainment and healthcare, and Southern hospitality. Every winter, Franklin's historic town center is transformed for the Dickens of a Christmas Festival with costumed actors and a Victorian England setting. The city is also famous for its Great American Main Street, a 16-block area of pre-Civil War to early 20th century buildings for dining and shopping. If you're looking for an active retirement lifestyle with plenty of amenities and a small-town feel, Franklin may be perfect for you. Be sure to check the Water's Edge neighborhood where one-third of homes are designed for 55+ homeowners.
East Nashville – One of the Best Nashville Neighborhoods for Young Professionals with a Suburban Feel & Great Walkability
Nashville has been ranked the #3 best city for young professionals, but you don't need to live in the urban core of the city to enjoy its nightlife, jobs market, and amenities. East Nashville is actually a neighborhood in Nashville, but it's a suburban neighborhood. The community has no clear boundaries but it's divided into two large areas: Inner East Nashville or the East End along the Cumberland River across from downtown and Greater East Nashville which includes areas to the north and northwest. The outer neighborhoods have the most suburban feel with a lower median income ($40,000 versus $74,000), and lower home prices.
What makes it one of the best places to live in Nashville for young professionals and millennials? Amazing parks, great walkability, a fun nightlife, and a commute to downtown of no more than 5 miles. While some neighborhoods are more residential than others, East Nashville is the epicenter of Nashville's culinary scene and nightlife.
Smyrna – One of the Best Affordable Nashville Suburbs & Popular with Families & Retirees
Named one of the best places to live and retire, Smyrna offers a great quality of life without the high home prices of most of the best suburbs of Nashville. The city is close to Murfreesboro and Nashville and it's experienced substantial new development despite having the feel of a more established community. You'll definitely be surprised at the affordable prices for single-family homes considering the amenities Smyrna has to offer!
View this post on Instagram
Along with convenient shopping, Smyrna offers endless opportunities for recreation. City parks like Lee Victory Recreation Park and Gregory Mill Park offer lit game courts and playgrounds while Percy Priest Lake offers camping, boating, and kayaking. Families appreciate the Smyrna Bowling Center (open 24/7!) and the Stars and Strikes Family Entertainment Center in town.
Oak Hill – Top Nashville Suburb & Frequently Ranked as One of the Best Places to Live in the U.S.
Mostly a residential community, Oak Hill is one of the best Nashville suburbs for families, retirees, downtown commuters, and outdoor enthusiasts. The suburb is usually lumped together with the neighboring community of Forest Hills, both of which are among the most affluent Nashville, Tennessee suburbs. Oak Hill is also one of the most expensive places to buy a home in the Nashville area.
The crown jewel of Oak Hill is Radnor Lake State Park, a sprawling park of more than 1,300 acres with wildlife, trails, and canoe floats. With its small-town, suburban atmosphere, you'll almost forget you're just six miles outside downtown Nashville!
Belle Meade – Most Affluent Suburb of Nashville
Belle Meade is one of the most exclusive and desirable suburbs of Nashville and home to many celebrities including Nicole Kidman and Keith Urban. The community is a popular retreat for affluent families in the region with homes in the multi-million-dollar range. You will find some homes that are more budget-friendly, including condos in the $200s to $400s.
View this post on Instagram
The suburb is best known for the Belle Meade Historic Site & Winery, once the first and largest plantation in Nashville and now fully restored as a winery. The town is also home to Belle Meade Country Club and it's the gateway to Percy Warner Park, Nashville's largest park and public forest with equestrian trails and a golf course.
Nashville Suburbs Map
Does one of these amazing communities sound like the perfect place for your family? After narrowing down your options, give our friendly movers in Nashville a call for a free, personalized estimate. We'll help you settle in without the stress and hassle so you can begin enjoying everything your new community has to offer!