Nashville Commercial Movers
Commercial relocations are unlike a typical residential move and require extensive expertise, equipment, and knowledge. Whether you're seeking Nashville commercial movers to relocate your medical facility and lab, hospital, clinic, government office, retail store, hotel, or motel, 6th Man Movers knows how to make this transition seamless and straightforward. Need a premier Nashville commercial moving company? We serve Nashville, Davidson County (area), and the Nashville Metropolitan Area.
What Is a Nashville Commercial Move?
Taking on a residential move alone is time-consuming, stressful, and costly enough; imagine attempting to move an entire school room or hospital. Licensed, certified Nashville commercial movers are sought out because commercial moves require expensive equipment, serious manpower, and lots of tedious coordination. 
Unlike residential relocations, commercial moves are when an entire business needs to relocate, which often means lots of heavy machinery, equipment, and boxes. While specialized equipment plays a significant role, so do the crew members. Efficient Nashville commercial moving companies take the time to train employees with complicated tasks like furniture disassembly and assembly, putting together industrial equipment, handling warehouse moves, and more. It's not uncommon for commercial moves to be completed after hours to ensure employees and customers are not inconvenienced.
Types of Nashville Commercial Moves
Nashville commercial moving companies can handle various types of commercial moves. Here are common commercial moves you can expect your award-winning Nashville commercial moving company to handle.
Office moves

Cubicle moves

Lab moves

School moves

Hospital moves

Warehouse moves

FF&E
A moving coordinator to plan and coordinate the entire process. You won't have to worry about planning and coordinating a Nashville commercial move. Expect your coordinator to create a Nashville commercial moving project plan, complete with a Nashville commercial moving checklist, tips and tricks, and things to expect during your commercial relocation.
Dependable Nashville commercial moving teams will provide the proper packing materials, boxes, and equipment, saving you money.
All plans are customized and tailored to your unique move, ensuring quality and organization.
Packing services will be provided; you won't have to use your time or resources for this tedious task.
Your items will be loaded, transported, and unloaded safely!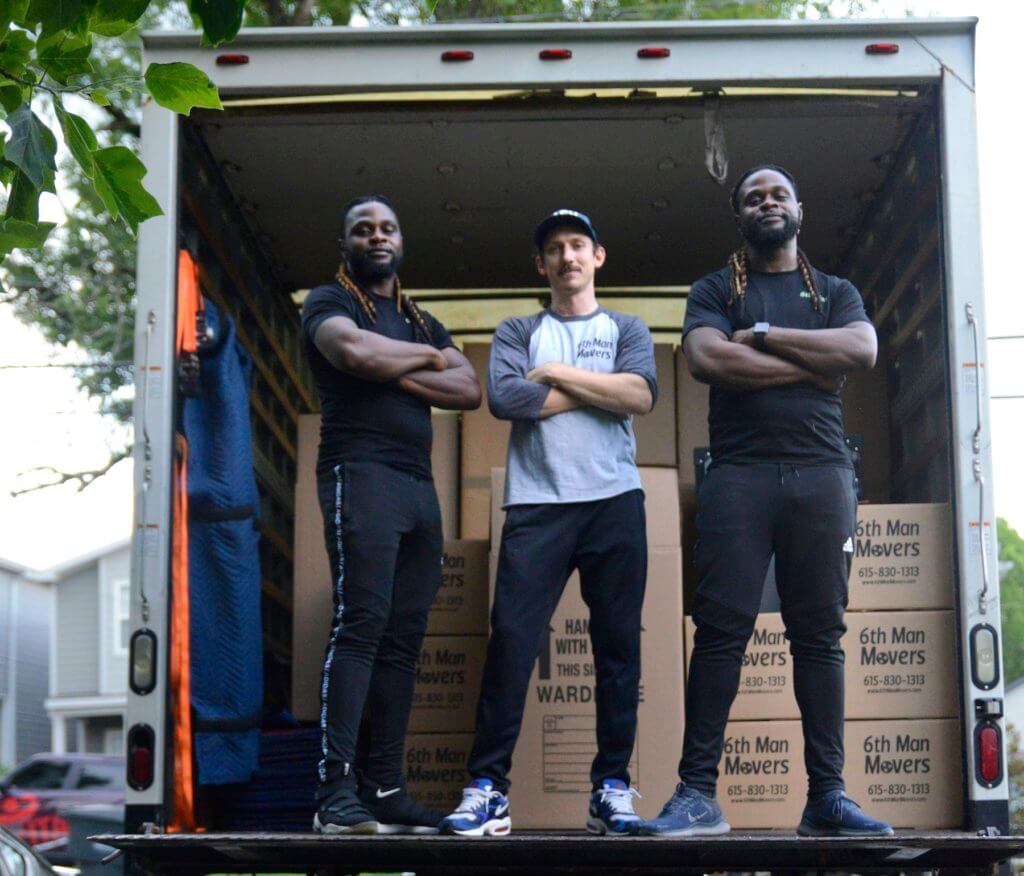 Cost of a Nashville Commercial Move
You may be curious about the cost of premier Nashville commercial movers. While there is no way to get an accurate estimate unless you call and ask for a detailed quote, there are specific parameters all top-rated Nashville commercial moving companies use while calculating your affordable estimate. 
Nashville commercial moves are priced on these factors: 
Distance from point A to point B

The number of belongings being moved

Desired move-in date (peak season, weekends, and holidays affect the rate)

Additional services like packing and unpacking or equipment disconnect and reconnect will cost more

Storage services; whether you need it at the destination or origin, most companies up-charge for storing items 
Ultimately, the best way to receive an affordable Nashville commercial moving estimate is by contacting your chosen company and requesting a detailed quote.
Choosing the Best Nashville Commercial Movers
Finding a trustworthy Nashville commercial moving company is no easy feat. Most people don't have the proper equipment, correct training, or manpower to carry out difficult and tedious relocations.
Here are a few factors that deem a company competent enough to handle your commercial relocation: 
Impeccable trust stats (years in business, low claims rate, etc.)

The proper licensure and insurance

Excellent Yelp and Google reviews 

Can provide the services you need

Have outstanding customer service and great attitudes 

Have the proper equipment and correct training
6th Man Movers has 10 plus years of experience, over 30 team members, and completes over 2,500 moves yearly. In addition to our extensive expertise and dedication to quality, we have top-notch equipment and training. 
We use new, clean, and specially equipped trucks. 

We have tractor trailers which are 53' moving trucks, big enough to handle even the biggest commercial relocation.

We also have all standard commercial moving equipment like toolboxes, straps, dollies, furniture blankets, extra boxes, shrink wrap, and tape. 
Our crew members undergo extensive training, ensuring your belongings are handled courteously and carefully. Our movers work in tandem with moving coordinators, schedulers, drivers, and the customer, keeping the process seamless and stress-free. If you have a school, office, warehouse, or retail move, we can be your team!
6th Man Movers is a top-rated Nashville commercial moving company serving Nashville, Davidson County (area), and the Nashville Metropolitan Area. We will formulate a Nashville commercial moving project plan to ensure your Nashville commercial relocation goes as smoothly as possible. Call 6th Man Movers today at 615-434-8272 for a free estimate!