Nashville Local Moving Services With 6th Man Movers
Are you planning an upcoming local move? If your relocation will cover 100 miles or less, hiring a Nashville local moving company is the right choice for your situation. The best Nashville local moving companies understand that the relocation process can be filled with ups and downs, and if not coordinated properly, can cause stress and anxiety.
Thankfully, we're here to deliver a seamless local moving experience that is both stress and hassle-free. Serving Nashville, all of Davidson County, and the Nashville Metropolitan Area, we can come to you with our top-tier equipment and supplies, reliable trucks, and exceptional work ethic. Focus on the most important parts of your life while we handle all of the planning, organizing, and heavy lifting.
Check out our blog, If you want to know more about the best Nashville neighborhoods.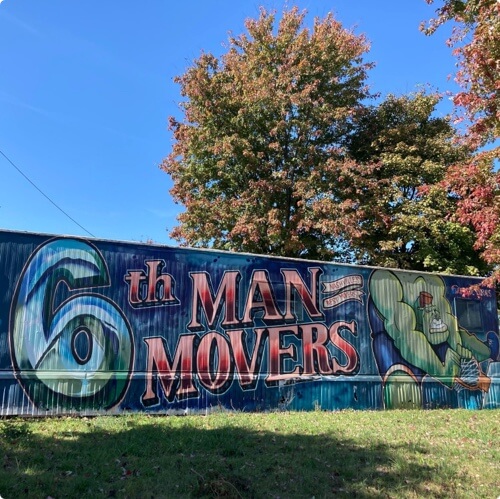 Hiring Professional Nashville Local Movers - Top Reasons
If you've never hired Nashville local movers, you may be unaware of the many perks and advantages of the services provided. Although the list of benefits is extensive, here are the main reasons that people regularly enlist the help of a Nashville local moving company
Prevent Injury
Due to the hazards of lifting heavy objects, improper lifting techniques, moving items up and down stairs, and using muscles that haven't been used in awhile, injuries are extremely common during the relocation process. Some injuries can be a minor inconvenience, while others can result in a hospital stay.
You can completely avoid the risk of injury during your upcoming move by hiring Nashville's best local movers.
Save Time
Handling the entire moving process by yourself is incredibly time consuming. For some, the tasks of packing, organizing, loading a truck, and finding moving equipment/materials can be a full-time job in itself.
Professional local movers near Nashville TN can add hours upon hours back into your schedule — so that you can spend time on the tasks that matter most.
Reduce Stress
For many individuals, the most valuable aspect of hiring professional movers is the reduced stress. Instead of having to be responsible for all facets of the relocation, you can sit back and enjoy a seamless experience.
Other top reasons to hire professional movers:
Along with our standard moving services, we also offer the following complementary services:
Nashville Local Moving Requires Specialized Equipment & Training
In order to have an easy and successful move, having the right equipment is paramount. Items such as straps, moving pads, secure trucks, furniture blankets, and dollies are needed in order to safely perform a local move. These items not only prevent injury, but they also reduce the risk of damaging or breaking your belongings. On top of having the best equipment, our local movers near Nashville are fully trained and insured, giving you added peace of mind.
Upon arrival at your home, and at your final destination, we utilize all of our available resources to carefully yet efficiently pack, load, unload, and assemble your items. All of the tools and experience we bring allow you to settle into your new home much more quickly and easily.
Here are some standard items and staffing that you can expect for every local move:
Reliable trucks (fuel included)

24 foot moving trucks
Routinely inspected and cleaned

Standard equipment on every truck

50+ moving pads
Toolbox
Straps
Furniture blankets
Tape
Shrink wrap
Extra boxes
Three dollies

Fully staffed moving crew

Specialized, up-to-date training
30+ crew members complete 2,500+ moves per year