First founded in 1785, Clarksville, TN was named for General George Rogers Clark, a frontier fighter and Revolutionary War hero. Once a site for the Paleo-Indians nearly 11,000 years ago, Clarksville, Tennessee is now one of the most popular cities in the entire state. Clarksville is known for its historic attractions, beautiful rivers and trails, and hip craft food and beverage scene. As such, Clarksville is a good place to live. If you are thinking about moving to Clarksville, TN, then there are a few important things you should know about the area.
Where Is Clarksville Tennessee?
Clarksville, Tennessee is in Montgomery County and is also the county seat of the area. Of the 95.5 square miles of Clarksville, 94.9 square miles is land and 0.7 square miles is water. The city of Clarksville is located on the edge of the Highland Rim, which surrounds the Nashville Basin. Clarksville is bordered by the cities and communities of Cumberland Heights, Sango, Port Royal, Woodlawn, and Fort Cambell. The northern edge of Clarksville borders the Kentucky-Tennessee state line.
Where is Clarksville, TN in relation to other big cities? It is 49.4 miles from Clarksville, TN to Nashville, TN. It is 60.6 miles from Clarksville, TN to Bowling Green, KY.
Clarksville Information
County: Montgomery
Clarksville area: 95.5 square miles
Clarksville TN zip code: 37040-37044
Clarksville area code: 931
Clarksville elevation: 476 feet
Clarksville time zone: Central Time Zone (CST)
Closest airport to Clarksville: Nashville Airport (BNA), 47.6 miles away
Clarksville TN Population & Demographics
The Clarksville population is currently 166,722, which is a 25% increase over the past decade! Clarksville is one of the fastest-growing cities in the United States, which is one reason why Money.com named it the #1 place to live in 2019. This population increase has made Clarksville the fifth-largest city in the state of Tennessee. Clarksville is also the principal central city of the Clarksville metropolitan area, which has a population of 329,864.
Clarksville is also a very young city, with an average age of 30. Young people are flocking to the city due to the high median household income ($58,838) and the many social opportunities the area brings.
One of the biggest benefits of living in Clarksville is the diversity within the city. The racial and ethnic composition in Clarksville is 62.8% White (56.7% non-Hispanic), 22.7% Black or African American, 8.6% two or more races, 2.6% Asian, and 0.5% American Indian.
Clarksville, TN Demographics:
Sex ratio: 50.2% male, 49.8% female
Educational attainment: 93.6% high school degree (or higher), 28.7% bachelor's degree (or higher)
Foreign-born population: 5.3%
Many people have called Clarksville home, including NASCAR driver Mark Day, guitarist Jimi Hendrix, and NBA player Howie Wright.
Transportation in Clarksville
There are many major roads and freeways that serve those living in Clarksville, TN. U.S. Route 79 runs through the middle of Clarksville, providing access to nearby cities such as Cunningham and Guthrie, KY. Interstate 24 runs along the city's northeast border, providing easy access from Clarksville to Downtown Nashville. Other major roads in the area are U.S. Route 41A, State Route 12, and State Route 13.
While the best way to get around the city is by car, you can also use the Clarksville Transit System. The CTS provides a system of buses that travel on eight different routes throughout the city. You can also take the Clarksville Express line directly into downtown Nashville.
Clarksville is served by the Nashville International Airport (BNA), which is 47 miles away from the city. BNA is served by 30 airlines and has nearly 600 flights departing and arriving every day from 101 airports across North America and Europe.
View this post on Instagram
Cost of Living in Clarksville TN
You will be happy to know that living in Clarksville, Tennessee is very affordable. The Clarksville, TN Cost of Living Index is 88.8. This means that living in Clarksville is 11.2% more affordable than the national average of 100. According to the Economic Policy Institute's Family Budget Calculator, a family of four would need to earn $76,400 per year to live in Clarksville. This comes out to about $6,367 per month.
Typical Clarksville Living Expenses:
Average Clarksville utilities: $250.63
Meal at an inexpensive restaurant: $16.50
Cappuccino: $4.62
Gallon of gas: $3.10
Gym membership: $79.00
Child care (monthly): $751.67
Source: Numbeo
Clarksville Taxes
After moving to Clarksville, you will be expected to pay taxes. Tennessee's property taxes are assessed by the county commission and city governing bodies. The property taxes you pay in Clarksville are a combination of these tax rates and then based on your home's assessed value. The current property tax rate in Clarksville is $1.23 per 100 assessment.
The sales tax in Clarksville is 9.500%. Here's how it breaks down:
Tennessee State: 7.000%
Montgomery County: 2.500%
Clarksville: 0.000%
Total: 9.500%
Luckily, Tennessee does not have an individual income tax. 
In addition to your taxes and typical living expenses, Clarksville, Tennessee real estate plays a large part in your cost of living.
Clarksville TN Real Estate | Average Rent & Home Prices
Just like the cost of living, Clarksville real estate is very affordable! According to Redfin, the average home price in Clarksville, TN is $309,900. This is down 0.032% compared to last year and is lower than the national average of $422,137. Townhouses in Clarksville sell for an average of $230,000, and condos sell for an average of $215,000.
If you want to rent in Clarksville, TN, then there are many amazing options to choose from. According to RentCafe, the average rent in Clarksville, TN is $1,325 per month. Rent in Clarksville is more affordable than nearby cities such as Nashville ($1,787 per month), Knoxville ($1,606 per month), and Hendersonville ($1,547 per month). A few of the best apartment complexes in Clarksville are Parc at Clarksville, Fountains at Meadow Wood, and Cumberland Ridge Apartments.
Although both options are affordable, a recent study found that it is more affordable to buy than to rent in Clarksville. 
Clarksville Neighborhoods | Where to Live in Clarksville
No matter what type of lifestyle you are looking for, Clarksville has something for you! These are just a few of the best places to live in Clarksville, TN. 
Liberty Park | Serene Area Close to Popular Outdoor Attractions
Liberty Park is a neighborhood that is located in southwest Clarksville. This area is popular among retirees and small families that are looking for a laid-back living style. Liberty Park is just steps away from the Cumberland River, and many homes in this area come with stunning waterfront views. When living in this area, you can enjoy nearby outdoor attractions such as the Clarksville Marina and King's Run Bark Park.
View this post on Instagram
West Creek | Family Friendly Area With Affordable Real Estate
West Creek is just a few miles away from Downtown Clarksville and is one of the best neighborhoods in Clarksville, TN. West Creek has some of the most affordable real estate in the area, with many homes selling under the listing price. If you are moving to Clarksville with children, you will be happy to know that West Creek is within walking distance of many of the city's best public schools, including West Creek Middle School and West Creek Elementary School.
Downtown Clarksville | Walkable Area Great for Young Professionals
Downtown Clarksville is one of the best areas to live in Clarksville for those who want to be in the middle of all of the action. The downtown area is incredibly walkable and full of hip cafes, cute boutiques, and numerous office buildings. Downtown Clarksville is also great for students and is home to Austin Peay State University.
Clarksville Tennessee Weather & Climate
Per the Köppen classification, Clarksville has a humid subtropical climate. This means that the Clarksville climate is characterized by hot and humid summers and cool and mild winters. Over the course of the year, the Clarksville temperature varies from 30ºF to 89ºF and is hardly ever below 14ºF or above 96ºF.
Does it snow in Clarksville, TN? The Clarksville annual snowfall is only 5 inches per year. Snow is common in the winter, but oftentimes, it does not stick to the ground.
Clarksville TN Restaurants
Are you on the hunt for the best restaurants in Clarksville, TN? Whether you are in the mood for BBQ, Italian, or good old-fashioned American food- Clarksville has it all!
Harbor Cafe is an award-winning steak and seafood restaurant in Clarksville. In 2021, Harbor Cafe won the Leaf-Chronicle Reader's Choice Awards of 'Best Local Eatery,' 'Best Family Restaurant,' 'Best Cocktail Hour,' and 'Best Bartender.' This cozy restaurant is open seven days a week.
2131 Lowes Dr, Clarksville, TN 37040, 931-906-0188
Catfish House is one of the best places to eat in Clarksville, TN. You'll feel right at home in this family-owned establishment that serves up catfish, steaks, and other Southern-style dishes.
View this post on Instagram
1461 Zinc Plant Rd, Clarksville, TN 37040, 931-648-2121
Liberty Park Grill is the place to be for watching the big game, going on a date, or grabbing a quick beer after work. This casual eatery serves casual American dishes and offers both indoor and outdoor seating.
125 Marina Wy, Clarksville, TN 37040, 931-919-2444
Things to Do in Clarksville TN
Here are a few of the best things to do in Clarksville. 
Top Clarksville Attractions
View this post on Instagram
Clarksville Museums, Entertainment, and Arts
Clarksville Parks & Outdoors
Dunbar Cave State Park: This 110-acre protected area is the 280th largest cave complex in the world! Stop by and check out the hiking trails, picnic area, and playground.
McGregor Park & Cumberland Riverwalk: Grab the kids and head to McGregor Park. This cozy park is located along the Cumberland River and has a picnic area, a museum, and a boat ramp.
Heritage Park Sports Complex: Heritage Park Sports Complex consists of eight soccer fields, four softball fields, four baseball fields, and two basketball courts. It also has a skate park and a splash pad that is open in the summertime!
Shopping in Clarksville
Governor's Square Mall: This shopping complex has dozens of stores and restaurants. The mall also hosts seasonal events throughout the year.
Two Rivers Mall Shopping Center: The Two Rivers Mall is an indoor/outdoor shopping center with a wide variety of stores, boutiques, and eateries. The complex gets its name due to the fact that it is at the intersection of the Cumberland and Red Rivers.
Map of Clarksville Things to Do
Check out this map of what to do in Clarksville, TN.
Sports in Clarksville
Clarksville has a long history with the sport of baseball. The city was home to several Minor League Baseball teams that played in the area, including the Clarksville Villagers, the Clarksville Volunteers, and the Clarksville Colts. Today, Clarksville does not have any sports teams, but you can cheer for nearby teams when living in the area. Many people living in Clarksville support teams such as the Nashville Predators and the Tennessee Titans.
View this post on Instagram
Clarksville TN Crime Rate
Are you wondering whether or not Clarksville is a safe place to live for you and your family? The Clarksville crime rate is 2,853 crimes per 100,000 people, which is 9.9% lower than the state average and 21.6% higher than the national average. The violent crime rate is 983 crimes per 100,000 people, which is 9.3% lower than the state average and 57.3% higher than the national average. The property crime rate is 2,243 crimes per 100,000 people, which is 10.0% lower than the state average and 14.5% higher than the national average. Based on these numbers, you can see that Clarksville is one of the safest cities in the state. 
Here's how crime in Clarksville compares to other Tennessee cities:
Covington: 6,589 crimes per 100,000 people (108.1% higher than state average and 180.9% higher than national average)
Nashville: 4,779 crimes per 100,000 people (51% higher than state average and 104% higher than the national average)
Memphis: 7,710 per 100,000 people (144% higher than state average and 229% higher than national average)
When living in Clarksville, you will be served by the Clarksville Police Department.
View this post on Instagram
Jobs in Clarksville TN
The Clarksville, TN economy is thriving. Clarksville has a strong economy generating $5 billion in capital investment and more than 7,500 jobs since 2000.  The economy is growing at a rapid rate. In fact, all industries in Clarksville have seen a 76.9% growth over the past 10 years, which is higher than the US average of 61.7%. This growth does not show any signs of slowing down, with a projected job growth of 9.1%.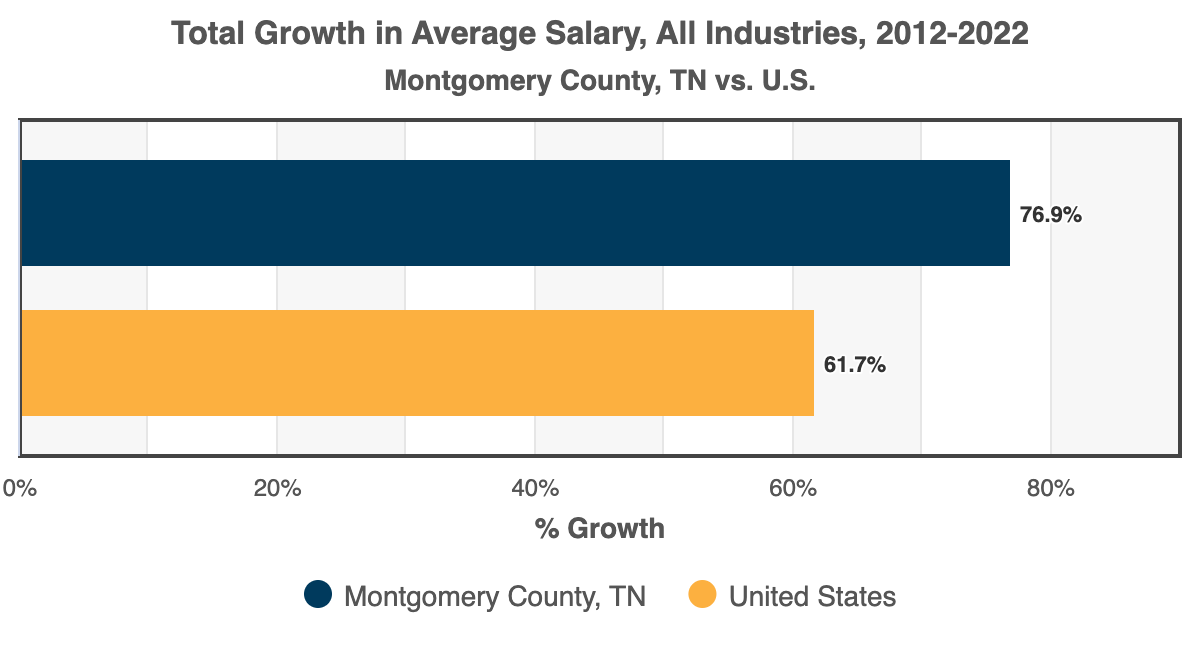 When it comes to Clarksville jobs, there is something for everyone. Some of the top employers in Clarksville include Amazon, American Standard, and Bridgestone. Because of its close proximity to Nashville, many people living in Clarksville choose to commute for work. 
According to PayScale, the average salary in Clarksville is $57,000 per year. Some of the highest-paying jobs in Clarksville include:
Physicians ($297,880 per year)
Sales Managers ($124,330 per year)
Pharmacists ($122,070 per year)
Source: BLS
If you are on the hunt for jobs in Clarksville, Tennessee, then check out the city job board or try a search for 'Clarksville, TN jobs' on Indeed.
Clarksville Schools
If you are moving to Clarksville with kids, then you may be curious about schooling in the area. The primary Clarksville school district is the Clarksville-Montgomery County School System. This system has a total of 46 public schools and serves over 37,000 students. There are eight high schools in Clarksville, TN, including Kenwood High School and Northeast High School.
View this post on Instagram
Searching for private schools in Clarksville, TN? Some popular options include Clarksville Academy and Little Scholars Montessori.
There are also numerous higher education options in Clarksville, including Austin Peak State University, Hussain College, Miller-Motte Technical College, and Nashville State Community College.
When living in Clarksville, you will have access to the Montgomery County Public Library System.
Are you ready to start living in Clarksville, TN? Clarksville is a great place to live for people of all ages and families of all sizes. When you are ready to start your relocation, get in contact with our experienced Clarksville movers. The team here at 6th Man Movers is here to help you throughout the entire moving process. Give us a call today at 615-434-8272 to get started with a free quote.